Give your pigs
a natural beginning
Our products for pigs are produced from Swedish block peat, which is fractionated to the perfect size for piglets. Then MCP Zeolite is added to the mixture.
The peat is rich in fiber and has a low pH, and together with the good properties of the zeolite, it is positive for the piglet's stomach and intestinal system with fewer problems as a result. The peat stimulates the pig's natural behavior to root and burrow in the soil!
Our products are approved and approved by SMAK Certification AB to be used in organic production and production according to KRAV's rules.
MCP IRON BLOCKPEAT
MCP Iron BlockPeat has added iron and meets the daily requirement of iron if the piglet eats every day. MCP Iron BlockPeat can also be combined with other supply of iron, eg injection. This helps to keep the iron levels up throughout the di period.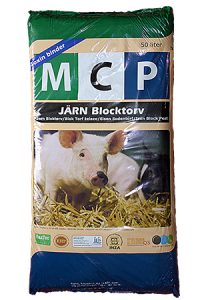 Contents:
Swedish block peat, MCP Zeolite, trivalent organic iron 2,000 g/m3.
Use – Dosage:
Calculate 0.4-0.8 dl/pig and day. Given from the 3rd day of life until weaning. Give the lower amount at the beginning of the period and adjust the amount so that everything is eaten within about an hour. When combining other iron supply, such as injection or iron paste, give the lower amount starting from about 1 week of age.

1 bag of 50 L is enough for about 2 litters for 33 days.
TIP!
Put the peat under the regular food, and the piglets' feed intake is stimulated during the lactation period!
Packaging:
Bag: 50L Pallet: 51 bags (=2550 L)
Volume calculation:
1 sack = 2 litters
1 pallet = approx. 100 litters
MCP WEANNING BLOCK PEAT
MCP Weaning Block turf is an excellent lure. Easy to dose, spread directly on the floor in the box. The peat is not only positive for the pig, but also helps keep the box dry and binds ammonium.
Contents:
Swedish block peat, MCP Zeolite.
Use – Dosage:
Calculate 1.5-1.8 dl/pig and day.
Given during the weaning period for 12-14 days. If you give an iron supply other than MCP Iron Block Peat, you can give MCP Weaning Block Peat already from day 3.
1 bag of 50 L is enough for about 2 litters for 12-14 days.
Packaging:
Bag: 50L Pallet: 51 bags (=2550 L) Large bale: 3 m 3 (=3000 L)


Volume calculation:
1 sack = 2 litters
1 pallet = approx. 100 litters
1 large bale = approx. 125 litters
For more information contact us:
Tel: 042-22 80 08
E-mail: info@raatec.com