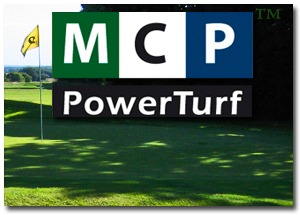 – environmentally friendly fertilizer optimization for golf courses.
MCP PowerTurf™ is a long-acting soil materials of selected grades of zeolite which operates in more than ten years, specifically designed for golf courses.
Environmentally friendly
– reduces leaching of nutrients from the plant bed to nature.
Reduces your fertilizer costs
– up to 65%. Watering less – MCP PowerTurf ™ keeps growing bed moist longer.
A natural product
– MCP PowerTurf ™ comes from nature and contain no toxins or chemicals
– Improved PH – MCP PowerTurf ™ gives your plant bed a better PH. MCP is selected grades of zeolite.
MCP PowerTurf™ used around the world, only in the US, sales increased by approximately 10.000 ton / år.
MCP Power Turf för Golfbanor.
A faction of the greens that meet USGA specifications for Golf Courses.
Particle Size 0,25 – 1,00 mm Ø
Ion exchange 1,2 gequ/100g
PH value 7,6
Specific Gravity 1,6 g/cm3
MCP at Falsterbo Golf Club, in cooperation with LMI.
Summer 2012