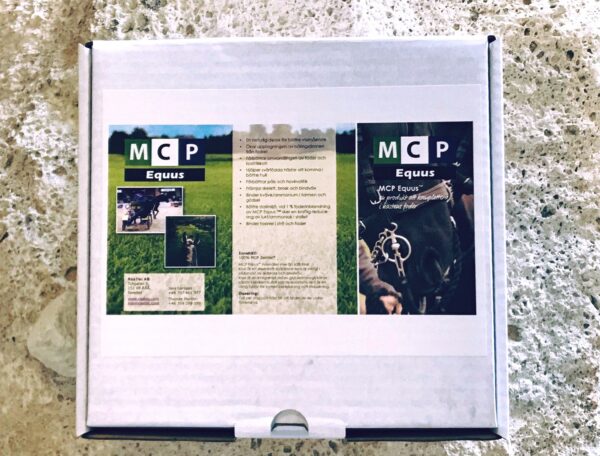 MCP Equus
Packaging:
4880 Box 2,4 kg

Can be sent as a package!
MCP Equus – to supplement to the horse
MCP Equus is finely ground zeolite packed in a practical cardboard bag, easy to dose.
In the rest of the world, zeolite has been used in animal husbandry for a long time with many good experiences. Zeolite and clinoptilolite (Clinoptilolite) can provide many benefits to both the horse and the stable environment.
Read more about Zeolite!
Benefits of MCP EQUUS:
MCP Equus is finely ground zeolite. Feel free to discuss with your veterinarian about zeolite as a supplement as the mineral can give positive results in diarrhea, hoof quality and fur.Always contact a veterinarian for diagnosis in case of illness and injury!
Feel free to supplement with MockaLätt which helps to dry up the stable and contributes to a drier stable environment for the horse.
dosage:
Give 1 dl per horse and day
Order and we will send as a package! info@raatec.com