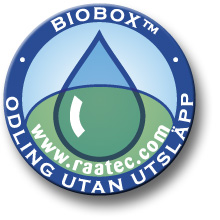 Recirculating water and fertilizer in greenhouses.
Biobox take advantage of excess water and fertilizer that would otherwise flow out of the greenhouse. It is primarily good for the environment, especially watercourses. But there is no doubt a very profitable investment for all who grow in greenhouses. (you save 25-35%)
BioBox – tions promote better skörd
Många has varit Rädda för att it would spridas sjukdommar in vattnet when one recirkulerar. The fact är att inte one endangering fall has drabbat någon odlare with Biobox ™.
Tvärtom visar test från Norwegian Institute for Agricultural att sjukdomar minskar.
Före Biobox Fick tomatplantorna net 9 dung tonne / year.
Av bruttoårsgivan on 15 tonne of dung GICK LEAST 6 ton till spillo.Med Biobox Fick tomatplantorna net 11 tonne of dung / year. 4 ton co nettogivan ökade with 2 ton från previous year.
Lone Swedish Board of Agriculture Calculations have Boris Larsson with sina 10.000m2släppt ut 6 – 8 dung tonne / year. Now emissions 0th .
Yield increased
from 52 – 57 tonnes, almost 10%. Crop growth is worth more than 500.000:-.
List of References
Tågerups Garden
Bua Nursery
Brännan tomato, The bay
Jönköping
Crop, Norway
Hvilans agricultural school
Assar's Garden Ltd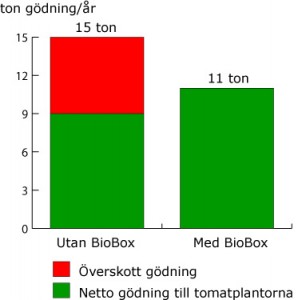 Hallabro Nursery
Jutilens Gartneri
Benny Svensson
FACTS
Floor Space 80 x 120 cm
Flow ca 300 l / h
Material Plastic
Filling MCP zeolite
With the purchase of Biobox ™ follows 1 Section (10st) Raatec Sock
Read more…
Read about water treatment in the Board PDF specification
Product Sheet (pdf)
There is also a movie with a little more information: Biobox and The sock